Sunday Worship, 12/10 In-person and Online
Sunday, December 10, Rev. Katrina Hebb will lead an in-person worship service in the Potsdam Presbyterian Community Center accompanied by Music Director Dr. Keillor Kastella on piano. Or join us online at 10 am or anytime thereafter via our Facebook page for Sunday worship services.  Worship will be followed by Holy Communion and potluck lunch.
View our most recent worship service
News and Events at Potsdam Presbyterian
Food Missions
A variety of foods and household goods is available to all 24/7 in the breezeway between the church and community center. Looking for an easy way to support our Little Free Pantry? Purchase food and household items through this Amazon wishlist. Items purchased will ship directly to First Presbyterian Church, Potsdam.
At Potsdam Presbyterian you are unconditionally welcomed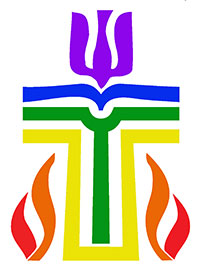 We extend a special welcome to those who are single, married, divorced, gay, or just not sure, filthy rich, dirt poor, or no habla Ingles. And a special welcome to those who are crying newborns, skinny as a rail or could afford to lose a few pounds. We don't care if you're more churchy than the Pope, or haven't been in church since Joey's Baptism.
We welcome you if you are over 60 but not grown up yet, or a teenager who is growing up too fast. We welcome soccer moms, NASCAR dads, starving artists, tree huggers, latte sippers, vegetarians, and junk food eaters. We welcome those who are in recovery and those who are not. We welcome you if you are having problems, or you're down in the dumps, or if you don't like organized religion.
If you blew all your offering money at the dog track you are welcome here. We offer a special welcome to those who think work is too hard, don't work, can't spell, or because Grandma is in town and wanted to go to church.
We welcome those who are inked, pierced, or both. We welcome those who could use a prayer right now, had religion shoved down your throat as a kid or got lost in traffic and wound up here by mistake. We welcome tourists, seekers, doubters, bleeding hearts, and you.
We welcome you because if you're good enough for God (and you are) then you are good enough for us.
Peacemaking
First Presbyterian Church participates in the Presbyterian Church (USA) Commitment to peacemaking. In urgent response to the overwhelming culture of violence in our world we work toward transforming cultures of violence into communities of peace through inspiring new approaches to active peacemaking, equipping God's people to be compassionate and prophetic peacemakers, and connecting communities of peace to learn from each other in shared accompaniment and taking action together for the transformation of the world.
Social Justice
Along with other More Light PC (USA) churches and supporters of the Covenant Network, we at First Presbyterian Church of Potsdam encourage the full participation of LGBTQIA+ people in the life, ministry and witness of the Presbyterian Church (USA) – and in society, and we are committed to the full participation of all persons in our church community without regard for sexual orientation, personal background or human condition.
Most recent Worship Service
Sunday, December 3, 2023. Worship leader: Rev. Katrina Hebb