Rev. Katrina Hebb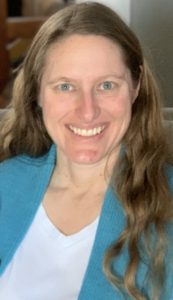 Katrina Hebb was ordained into ministry in the Presbyterian Church (USA) in 2017, after having graduated from Colgate Rochester Crozer Divinity School in Rochester, New York.
Her latest ministry experiences include working for two urban congregations in Rochester that took on the physical and psychological challenges of selling their buildings and transforming themselves into "building-less" churches, which ran ministries all over the city in public spaces. Prior to this, Rev. Hebb worked as a Commissioned Lay Pastor for the Lisbon United Presbyterian Church in Lisbon, NY and owned and operated the Blackbird Cafe in Canton, NY.
Rev. Hebb enjoys spending time with her two teenage children, knitting, gardening, and being out in the woods.