Greetings Church!
Today is Veteran's Day. Do you know anyone who has served in the military? If so, I hope you will extend them a greeting and offer a moment of appreciation for their life and their lived experiences. The struggles that veterans experience are real, and our support of their health and wellbeing is important.
Here's the news for the week:
Nov. 19th is Community Service Appreciation Day
Join us next Sunday as we give thanks for those who offer their time and talents to our greater community. We will be remembering George Davis and all that he contributed to Potsdam, as we celebrate Karen Easter and her Reach Out Team with the George Davis Community Service Award.
In recognition of what Reach Out does, I will also be preaching on the importance of mental health and wellbeing, in relation to trauma, on the 19th. I hope you'll join us!
Rehanging the Star on Tuesday, Nov. 21st
If you have signed up to help Dick Partch lower our star from the bell tower to replace lightbulbs, and then help heave it back up into place again, the day for action is Tuesday Nov. 21st! Please reach out to Dick if you have any questions or you'd like to participate. His email address is partch@clarkson.edu
Thanksgiving Community Supper Still Needs Volunteers
It is a joy to be able to host those in the community for Thanksgiving dinner on Thursday, the 23rd, and we still need a few folks to volunteer. You can bake pies or make stuffing ahead of time, come on Wednesday to help set up, or spend a few hours on Thursday helping to cook, serve and do dishes. It takes our whole community to make this dinner happen. Will you join the team?
Jeff Mitchell to Preach on Sunday, Nov. 26th
Jeff will be bringing us a word from the Word the Sunday after Thanksgiving. I hope you'll plan to attend!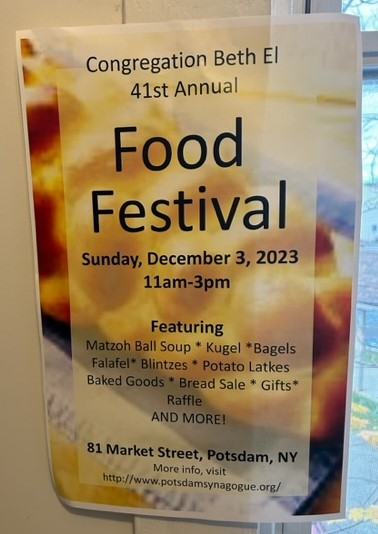 Beth-El's Annual Food Festival is Set for December 3rd
Our friends at the synagogue are reviving their annual Food Festival tradition this year (after a 4-year hiatus because of Covid). Helping to support their fundraiser is one way that we can let our neighbors know that we see and care about them– especially in this challenging moment in their people's history. 
Support for Ukraine
We are still collecting hats, gloves, scarves, socks, and coats to send to folks in Ukraine. We also need monetary donations to help cover the cost of shipping. If you'd like to contribute that way, please write Ukraine on the memo line of your check and/or offer cash to Jane Wells, who is helping to send the boxes.
Dick Partch Offers Thanks for Your Love for JoAnne
Dick Partch has sent the church a note of thanks for all of your cards, letters, and well wishes following the death of his wife, JoAnne. Dick has been taken by all of the memories and blessings you have shared with him.
Progress in the Sanctuary!
LaFaver's Painting has been busy this week in the sanctuary– scraping paint, cutting out degraded sections of plaster, and prepping cracks. They're doing a fantastic job and working hard to mend and repair our walls. When this work is complete, then the fun will begin. They should be done with painting within 3 weeks!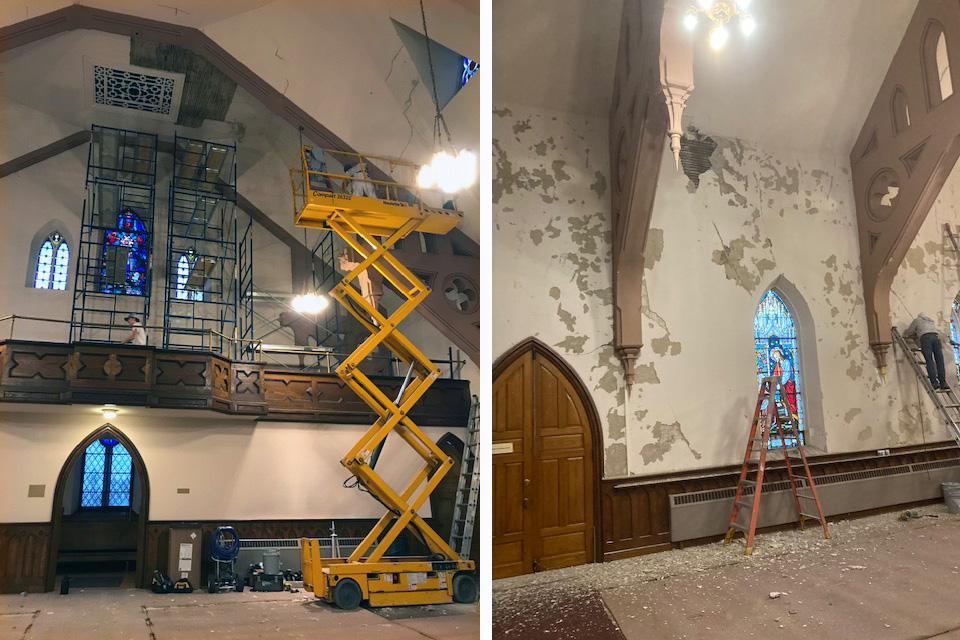 The War in Israel
Friends, are you as overwhelmed, saddened, enraged, and confused about what's happening in Israel/Gaza as I am? Do you feel uncertain or even angry about what is happening?
This last week Session asked me to reach out to our Jewish and Muslim neighbors– folks who are aching deeply from the conflict happening halfway around the world. I wrote to our friends at both the synagogue and the masjid to ask how we might support them.
In the coming weeks I will let you know what they ask of us.
I also plan to educate myself on the conflict as best I can so that I can offer our congregation some insight on the history of this conflict, and to suggest some concrete actions we might take as Christians who care about the lives of people being torn apart by war, fear, and hatred. I will offer you a sermon on the matter as we enter the season of Advent.
Dear Hearts, let us choose to live with Christ this week– caring for our neighbors, choosing to live in hope, and actively embodying love and grace even as we work for justice and peace in the world.
And as Paul reminds those struggling in Rome, "Rejoice in hope, be patient in tribulation, be constant in prayer." –Romans 12:12.
In Faith,
Pastor Katrina