Good day to you, Church!
It's been raining on and off this morning, but it's still unseasonably warm– after a week of hot, sunny days to boot! It baffles my mind that we still haven't had frost yet. Do you remember when we'd have our first frost by mid-September? I checked the current forecast and there doesn't look to be any frost in sight until the very end of October. Wow! Climate change is showing up, even in the North Country.
Here's the news for the week: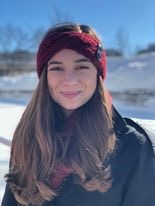 Today I wanted to "introduce" you to Claire Geagan, our new office administrator. She's been on the job for a whole week now, and is beginning to learn the ropes. Her office hours will be Mondays from 12-2pm(ish) and Saturdays from 12-2pm(ish). If you happen to be at the church around that time, pop your head into the office and offer her a hearty welcome!
Collecting Children's Books for a Children's Library in Kenya
Julie Miller has befriended a minister of a Presbyterian Church in Chuka, Kenya– Enoch King is his name– who is attempting to collect enough children's books to start a small library for young readers at his church, the Gatua Parish Presbyterian Church. (This is someone Joanina Gicovi is also friends with.) Julie is collecting well-cared paperback children's books to send abroad, along with any postage contributions you might have to offer. If you have any books you'd like to contribute, we'd gladly accept them! Just bring them to church one of these weeks and we will see about helping out this sister church.
Ring Out for Climate!
The Unitarian Universalist Church in Canton has invited us to participate in making some noise to bring about awareness of the climate crisis we're facing globally. On Saturday, Oct. 30th at 6pm, churches all over Europe and the United States will be ringing their bells to draw awareness to the United Nation's 26th annual Climate Change Conference, taking place in Glasgow, Scotland. The conference, which starts on Oct. 31st (Reformation Sunday!), will bring world leaders together for 12 days of talks. This year's conference is particularly important because it marks 5 years since The Paris Agreement– when most of the world's countries promised to work together to reduce global warming. At that time, each country committed to putting together a plan of action, which would be reviewed 5 years later– at this year's 2021 Conference.
To draw attention to the importance of this moment, we will be participating in the ringing of our bells for 30 minutes on the 30th. So far, Levi and Isaiah Stauffer and Terry de la Vega and Dale Hobson have volunteered to take a turn pulling the rope. (30 minutes is a looooong time to pull the rope continuously!!) Would you like to help out too? If so, let Terry, Dale, or Renee Stauffer know, and come at 6pm that evening with your biggest muscles ready for action. Even if you only have the strength to pull the rope one time, your contribution would be welcomed!
As Christians, we have a spiritual calling to care for and protect the world that God created. Unfortunately, our sins of overconsumption are catching up with us, and if we don't get serious about making changes to the ways that we live, the consequences will continue to mount.
Perhaps as our government and business leaders meet to discuss things at the global level, we can converse amongst ourselves at the local level about what we're each doing to reduce our consumption of fossil fuels and use of plastics. What can you do differently? What are you already doing differently than before?
I encourage you to strike up these conversations at coffee hour and at your dinner table. Let's talk about this together!
Men's Lunch Set for Tuesday, Oct. 19th
Fella's– if you'd like to join the men at The Village Diner at 11:30am on the 19th, please let Bob Pickard know ahead of time to make the reservation.
Our Next Big Shift Conversation
We will hold our next Big Shift conversation following the Sunday worship service on October 24th.
Challenging Times
Friends, these are still tough days. How are you holding up? And what are you doing to care for yourself with tender love and compassion? If we're not putting in the energy to love ourselves when times are rough, what we end up giving to others is something other than our best love. I encourage you to make sure that you're paying attention to your needs right now. You are worthy of God's lavish grace and love in your life. It's not just meant for everyone else. It belongs to you, too!
In Hebrews, the author tells the believers of the early church:
"Let us then with confidence draw near to the throne of grace, that we may receive mercy and find grace to help in time of need."
~(Hebrews 4:16).
I believe that message is meant for us as well. I hope you will remember that this week.
Holding the faith line, while thinking about how I can reduce my fossil fuels intake,
Pastor Katrina